Bio Pros Cleanup LLC
21535 Rd 11.2 NW Quincy, WA 98848
Supplier Member
Member Since: 2023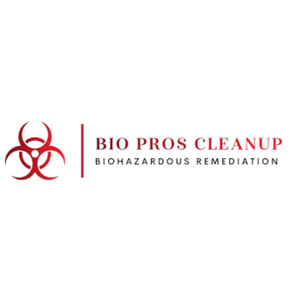 Organization Overview
As a FIRST RESPONDER OWNED & OPERATED Company, Bio Pros Cleanup LLC is the premier provider of Crime Scene / Trauma Cleanup in the PNW. We serve all of Washington, Oregon, and Idaho.

We provide 24-hour emergency response!

We are currently contracted with many state & government agencies to perform cleaning & restoration services. some of these include:

LAW ENFORCEMENT AGENCIES & JAILS
FIRE DEPARTMENTS
PRIVATE AMBULANCE COMPANIES
TRIBAL ENTITIES; COLVILLE TRIBES, YAKAMA NATION TRIBES etc.
WA STATE DEPARTMENT OF SOCIAL AND HEALTH SERVICES
AGING & ADULT CARE OF CENTRAL WA


OUR RESTORATION / CLEANING SERVICES INCLUDE:

TRAUMA - SUICIDES, DECOMPOSITIONS etc.
CRIME SCENES
WATER DAMAGE RESTORATION
MOLD REMEDIATION
DRUG LAB REMEDIATION
HOARDINGS & GROSS FILTH
TRANSIENT/HOMELESS CAMP CLEANUP
INFECTIOUS DISEASE - EBOLA, COVID-19, etc.
And M0re!