Certificate for Apartment Maintenance Technicians (CAMT)
ANSI accredited certificate training for service professionals.
---
Friday, September 29, 2023
at
8:00 AM (PDT)
to Thursday, October 26, 2023 at 5:00 PM (PDT)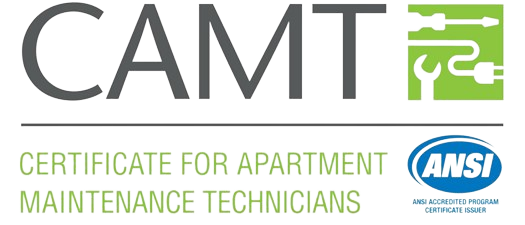 Validate your knowledge, enhance your reputation and credibility, and boost your confidence!
This program is designed as an introduction for new maintenance professionals or as a refresher for the veteran employee, giving you the knowledge and tools necessary to run an effective maintenance program. Maintenance expenses are the single largest controllable element in any operating budget.
Independent online soft skills courses include:

Welcome to the Industry
Customer Service
Teamwork
Time and Project Management
Money Matters
Documentation and Paperwork
Maintenance & Emergencies
Safety First
Compliance

In-Class Technical Courses cover

Interior/Exterior Maintenance and Repair
Electrical
Plumbing
Heating and Cooling Systems
Appliances
---
Pricing:
$1,550 Member | $1,850 Future Member
---
Photo Release:
Washington Multi-Family Housing Association (WMFHA) events may be photographed or video recorded. By participating in this event, you consent to your photograph/video recording being used for promotional purposes including but not limited to WMFHA promotional material, website and social media.
Agenda
September 29
8:00 AM - 9:00 AM

Virtual Orientation

October 3
9:00 AM - 5:00 PM

Interior & Exterior Maintenance and Repair

October 4
9:00 AM - 5:00 PM

Electrical Maintenance and Repair; Intro to Plumbing

October 5
9:00 AM - 5:00 PM

Plumbing Maintenance and Repair

October 24
9:00 AM - 5:00 PM

HVAC

October 25
9:00 AM - 5:00 PM

HVAC/Appliance Maintenance and Repair

October 26
9:00 AM - 5:00 PM

Appliances and Exam Prep
Attendees (39)
21 Other Registered Attendees
Credential Requirements:
Have at least 12 months experience in the apartment industry
Successfully complete the nine courses
Receive a passing grade on the exam
Complete all the requirements during the 6 month candidacy period
For More Information: