Hybrid Certificate for Apartment Maintenance Technicians (CAMT)
ANSI accredited certificate training for service professionals.
---
Thursday, February 9, 2023
at
8:00 AM (PST)
to Thursday, April 13, 2023 at 5:00 PM (PDT)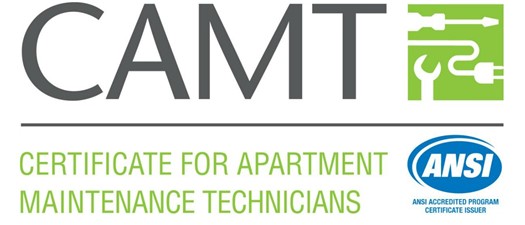 Flexible Learning Model for the Experienced Technician
This flexible program accommodates the busiest schedule with a compination of self-paced online coursework, live instructor led sessions and a two day hands-on component. The CAMT curriculum will give you the knowledge and tools necessary to run an effective maintenance program. A well trained maintenance team is the best tool for resident retention and profitability!
Progam consists of three parts:
Seven online, self-paced courses plus practice scenarios*
Five 4-hour instructor led virtual learning sessions
Two 8-hour in person practical application sessions
*Online Soft Skills Courses Include:
Welcome to the Industry
Customer Service
Teamwork
Time and Project Management
Money Matters
Documentation and Paperwork
Maintenance & Emergencies
Safety First
Compliance
---
Pricing:
$1,550 Member | $1,850 Future Member
---
Credential Requirements:
Have at least 12 months experience in the apartment industry
Successfully complete the six courses
Receive a passing grade on the online comprehensive exam
Complete all the requirements during the six-month candidacy period
---
Photo Release:
Washington Multi-Family Housing Association (WMFHA) events may be photographed or video recorded. By participating in this event, you consent to your photograph/video recording being used for promotional purposes including but not limited to WMFHA promotional material, website and social media.
Agenda
February 9
8:00 AM - 9:00 AM

Orientation (Virtual via Zoom)

February 16
8:00 AM - 12:00 PM

Electrical (Virtual - Via Zoom)

February 23
8:00 AM - 12:00 PM

Preventative Maintenance/Plumbing (Virtual via Zoom)

March 2
8:00 AM - 12:00 PM

Customer Service and Air Conditioning (Virtual via Zoom)

March 16
8:00 AM - 12:00 PM

Time and Project Mgmt; Make Ready; Heating (Virtual via Zoom)

March 23
8:00 AM - 12:00 PM

Documentation, Paperwork and Compliance; Appliances (Virtual via Zoom)

April 12
9:00 AM - 5:00 PM

Practicum Day 1


Lockout/Tagout Drywall Repair Exterior Property Inspections Make Ready Wiring, outlets, GFCI Repair a faucet Pipe Fitting Garbage Disposals
April 13
9:00 AM - 5:00 PM

Practicum Day 2


Drywall repair continued Using a multimeter Air Conditioning troubleshooting Heating troubleshooting Appliance troubleshooting Drywall repair completion
Thank you to our Hybrid CAMT Sponsors!