Virtual Certified Apartment Manager (CAM)
Enhance your skills, knowledge, and ability to effectively manage!
---
Wednesday, February 23, 2022
at
9:00 AM (PST)
to Wednesday, May 18, 2022 at 5:00 PM (PDT)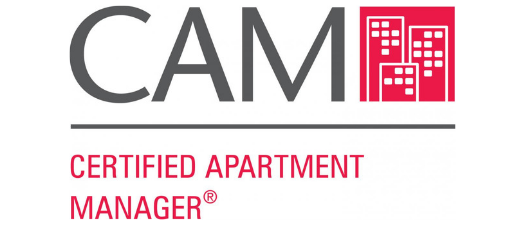 Increase your community's net operating income!
---
The onsite manager is a vital link between apartment residents and community owners and investors. The objective of the CAM program is to enhance the skills of the apartment manager which results in better managed and more profitable rental properties, improved resident retention rates and increased employee productivity.
---
Facilitator: Susan Weston, CAM, CAPS, NAAEI Senior Faculty

Virtual CAM blends the convenience of a virtual classroom, with the engagement of a live instructor and interaction with fellow classmates. This version of CAM is condensed, accelerated, and requires homework between sessions. It is not recommended for a less-experienced property manager.
Tools for success in this program:
2-3 years as a property manager
A computer with micorphone and camera (camera's are required to be on for all classes)
Reliable internet/wifi
Proper staffing and support to attend each session from an environment where you will not be interrupted during the class sessions
---
Credential Requirements:
Have at least 12 months experience in the apartment industry
Successfully complete the nine courses
Receive a passing grade of at least 70% on the comprehensive online exam
Complete all the requirements during the 6-month candidacy period
---
Pricing:
$1,450 Member | $1,650 Future Member
Agenda
February 23
9:00 AM - 10:00 AM

Orientation

March 9
9:00 AM - 1:00 PM

Industry Essentials and Marketing

March 16
9:00 AM - 1:00 PM

Legal and Property Maintenance for Managers

March 23
9:00 AM - 1:00 PM

Financial Management

April 13
9:00 AM - 1:00 PM

Risk Management and The Resident Experience

May 4
9:00 AM - 1:00 PM

Human Resource Management and Review/Exam Prep
Attendees (23)
Jaymie Barth
Property Manager
Allied Residential
Samuel Brown
Community Manager
Tarragon
Andrew Epperson
Community Manager
Epic Asset Management
Katie Ferguson
Property Manager
Boardwalk
Meranda Fritz
Community Manager
Valley Vista
Cassandra Garcia
Portfolio Coordinator
HNN
Cheryl Jennings
Community Manager
Epic Asset Management
Cara Munson
Investment Manager
Indigo Real Estate Services
Libby Patton
Property Manager
The Benjamin Lofts
Rachele Potts
Senior Regional Manager
Cushman & Wakefield
Cynthia Pugh
Multi-Site Community Manager
Fairfield Residential
Phillip Reinert
District Manager
Brookstone at Edgewater
Kyle Renner
Community Manager
Scout
Katia Romero
Community Director
Lake Washington Apartments
Lindsey Schneider
Property Manager
The Maverick
Tara Snider
Property Manager
Adirondack Lodge
Sheilagh Snyder
Regional Trainer
Thrive Communities
Damon Thomas (deleted-1) (Deleted)
Community Manager
TBD
Katie Wade
Community Manager
Rainier Pointe
4 Other Registered Attendees
New to note!
NAAEI course material will be delivered via ebook. When registering, please use a unique email address (not leasing@abcproperty.com for example) where you will receive instructions and the ability to load your ebook. You will have the ability to print ONE copy of the book if you choose.
---
Photo Release:
Washington Multi-Family Housing Association (WMFHA) events may be photographed or video recorded. By participating in this event, you consent to your photograph/video recording being used for promotional purposes including but not limited to WMFHA promotional material, website and social media.
For More Information: