Advanced Facilitator Training
Intensive practicum for advanced facilitation skills!
---
Tuesday, August 8, 2023
to Thursday, August 10, 2023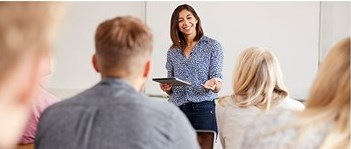 Back in Seattle after 6 years!
Ready to take your skills and knowledge to the FRONT of the classroom?
Want to be a more confident and pursuasive communicator?
The NAA Education Institute's Advanced Facilitator Training (AFT) is a train-the-trainer course delivered over three days and is intended for the experienced instructor. This intensive practicum provides participants with valuable, high-quality, specialized training on session planning and presentation skills. AFT prepares instructors to deliver the NAAEI's credentials and learning programs critical to advancing careers and promoting professionalism among apartment industry team members.
This course is a faciliatation skill builder and a CAREER ENHANCER! The AFT classroom is a positive and supportive environment, where participants are guided through a dynamic curriculum of presentation, hands-on activity, and feedback. AFT will have a lasting impact on many aspects of a participant's career. Whether the participant is a trainer of two years or 25 years, AFT will provide incredible professional development benefits. The experience will transform instructors into learning facilitators!
Upon completion of AFT, participants will assigned NAAEI Faculty status. To maintain this status, you must:
Provide 12 hours of classroom or electronic instruction annually for a state or local NAA-affiliated apartment association with no facilitator fee. However, considerable travel expenses should be reimbursed.Should an Affiliate not have the available facilitation hours, then other volunteer opportunities may be mutually agreed upon.
Use the NAAEI Faculty evaluation form to continue to evaluate and improve your facilitation skills.
Attend or participate in any required continuing education programs designed for faculty members.
$750 | WMFHA Members Only
Cost includes textbook, meals and group activity after class on the 8th!
AFT Sr. Faculty Instructor Team:
Rich George, CAPS - The NOI Coach
Marci French, CAPS- VP, Asset Management - HRG Managment Services
Doug Chasick, CAPS - That Fair Housing Guy
Attendees (14)
Courtney Callahan
Operations Specialist
Greystar Real Estate Services
Darrell Clark
Regional Maintenance Trainer
Thrive Communities
Renee Denomme
Operations Specialist
Greystar Real Estate Services
Rebecca Diaz
Resident Relations Specialist
HNN Communities
Rachael Douglas
Sales and Marketing Manager
Servpro of Central Seattle
Alex Gurdian
Regional Maintenance Trainer
Chelsea at Juanita Village
Jamie Hannity
Director, Maintenance & Safety
Security Properties Residential
Ryan Makinster
Director of Government Affairs
Washington Multi-Family Housing Association
Sidney Mitchell
Senior Community Manager
Verde Esterra Park
Kari Padilla
Director of Learning and Development
Thrive Communities
Saniya Regmi
Training and Development Associate
GRE Management
Meghan Shearer
Regional Trainer - Talent Development
Thrive Communities
Sheilagh Snyder
Regional Trainer
Thrive Communities
Kayla Stevens
Regional Manager
Avenue5 Residential