Asian American and Pacific Islander (AAPI) Heritage Month, observed annually in May, celebrates and honors the contributions, achievements, and rich cultural heritage of Asian Americans and Pacific Islanders in our communities. Here at WMFHA, we are taking time to celebrate the heritage and cultures of longtime members and staff who are committed to fostering a more diverse, engaged, and harmonious workforce within the multi-family industry.
Tricia Johnson was initially introduced to the world of multi-family housing through family friends Greg and Sloane Cerbana, who encouraged her to volunteer. At the time, the association was looking for temporary help for a few upcoming events and after those events, a full-time position was offered to Tricia as Events and Marketing Coordinator. Now, just over a decade later, Tricia currently serves as WMFHA's Senior Director of Events and Marketing. As the self-proclaimed "fun bucket" of the WMFHA team, she thinks any excuse to celebrate members is a valid one. But particularly with AAPI Heritage Month, she is proud to share more about her background and celebrate those who have paved the way.
Coming from a military family, Tricia's parents met while her father was aboard ship in Taiwan. She said growing up, she knew a lot of other military kids that were half-white and half-Asian like her, so she never felt different growing up. Her mother immigrated to America to be with her father and was the only member of her family to immigrate to the States. Tricia recalls it was hard for her mother to be away from her siblings and parents, so it was important that as a family they continued to connect with her Taiwanese culture. They often enjoy Taiwanese food together and celebrate traditional holidays like Chinese New Year, her two children call her mother a-ma (阿嬤), or grandma in Taiwanese, and they frequently make space for her to share memories of Taiwan.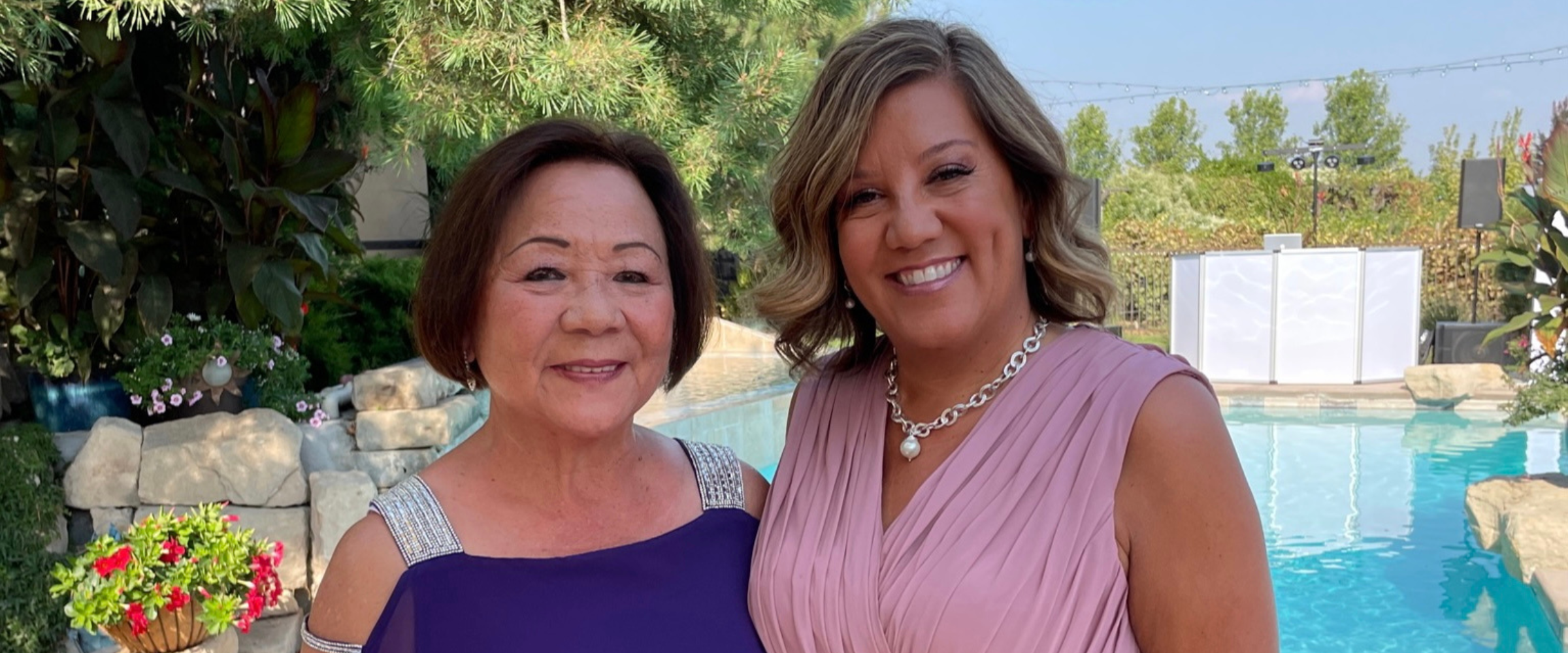 "Her life hasn't always been easy. She got up and moved to a different country to raise her family," Tricia says. "I've very proud of who I am, but I'm also proud of my parents who made sacrifices for me to have this life. My mom gave up a lot for her children and it was all fueled by the love for the man she married."
Growing up half-white, Tricia says many people don't identify her as Asian at first glance. It wasn't until she was in her 20s when she began noticing prejudice or discrimination against Asians. But not towards her, rather towards her Taiwanese mother. Tricia says watching her mom continue to build herself up despite discrimination has inspired her tremendously to continue working hard and ignore unwarranted hate. Her mother emphasized values like the importance of an education, setting goals, working hard, helping those around you and keeping your word. Those fundamental qualities have stayed with Tricia throughout her career, and she hopes that she has also passed those along to her children.
"To think that some people, like my mom, have been bullied into feeling ashamed about their background really hurts," Tricia says. "My mom and I love celebrating our culture together. With opportunities like AAPI Heritage Month, I can continue to celebrate it with the rest of our community in the face of discrimination."
With WMFHA, Tricia has grown her role in events and marketing to keep up with the rapid growth of the association. What appealed to her most about the role initially, was despite the WMFHA staff being small, Tricia had the opportunity to work closely with, suppliers, and members to prepare for events, which played a pivotal role in integrating her into the industry. One WMFHA event that she is most proud of is the annual Emerald Awards, which allows members to nominate and celebrate the hard-working staff who help keep the multi-family industry functioning day-in and day-out. Celebrating the accomplishment of members is the highlight of her role and something she looks forward to every year.
Additionally, Tricia has overseen the charge on growing WMFHA's philanthropic and volunteer efforts. Over the years, Tricia has assisted in vetting nonprofits to find the organizations and causes that best matched WMFHA's values and mission as an association. She says working with organizations like Childhaven, Domestic Abuse Women's Network (DAWN), Move for Hunger and Rebuilding Together is really special for her as an organizer. Seeing the donation numbers grow in the last ten years, she assumes members find these philanthropic opportunities rewarding, as well. Tricia estimates that WMFHA has raised nearly half a million dollars each for both Childhaven and DAWN and made generous volunteer contributions to Move for Hunger and Rebuilding Together.
As someone who "just fell into it", Tricia says the multi-family industry has opened doors for her that she would have never imagined nearly 11 years ago when she accepted her full-time offer with the association. She wants everyone to know that there is an open door to many long-term, stable career pathways in multi-family housing. Her advice? "Just try it. You'll never know unless you do."
As Tricia prepares for WMFHA's 20th Anniversary celebrations this summer, she loves hearing about the growth of the association from long-time members. It makes her excited about what the next 5, 10 and 20 years will bring. Tricia hopes that even when she decides to leave her position, the traditions she started will leave a legacy in the association's history.
"I hope we can keep bringing people's stories forward, whether for the Emerald Award or AAPI Month," Tricia concludes. It helps us understand how unique and different we all are, which is something I hope we can continue to celebrate as an industry."