Leveling Up Your Career Through Credentials
Shelby Bosch is a GO-GETTER! Since joining the multi-family industry in October of 2021, she has earned not 1 but 2 National Apartment Association Credentials. She obtained her Certified Apartment Leasing Professional (CALP) Credential at WMFHA in the fall of 2022 and then followed it up with her Certified Apartment Manager (CAM) credential. WOW!
Shelby is currently the Assistant Property Manager at Collage Apartments, managed by Cushman Wakefield. We reached out to her to ask her how she was able to accomplish this impressive feat and how going through the credential programs has impacted her career.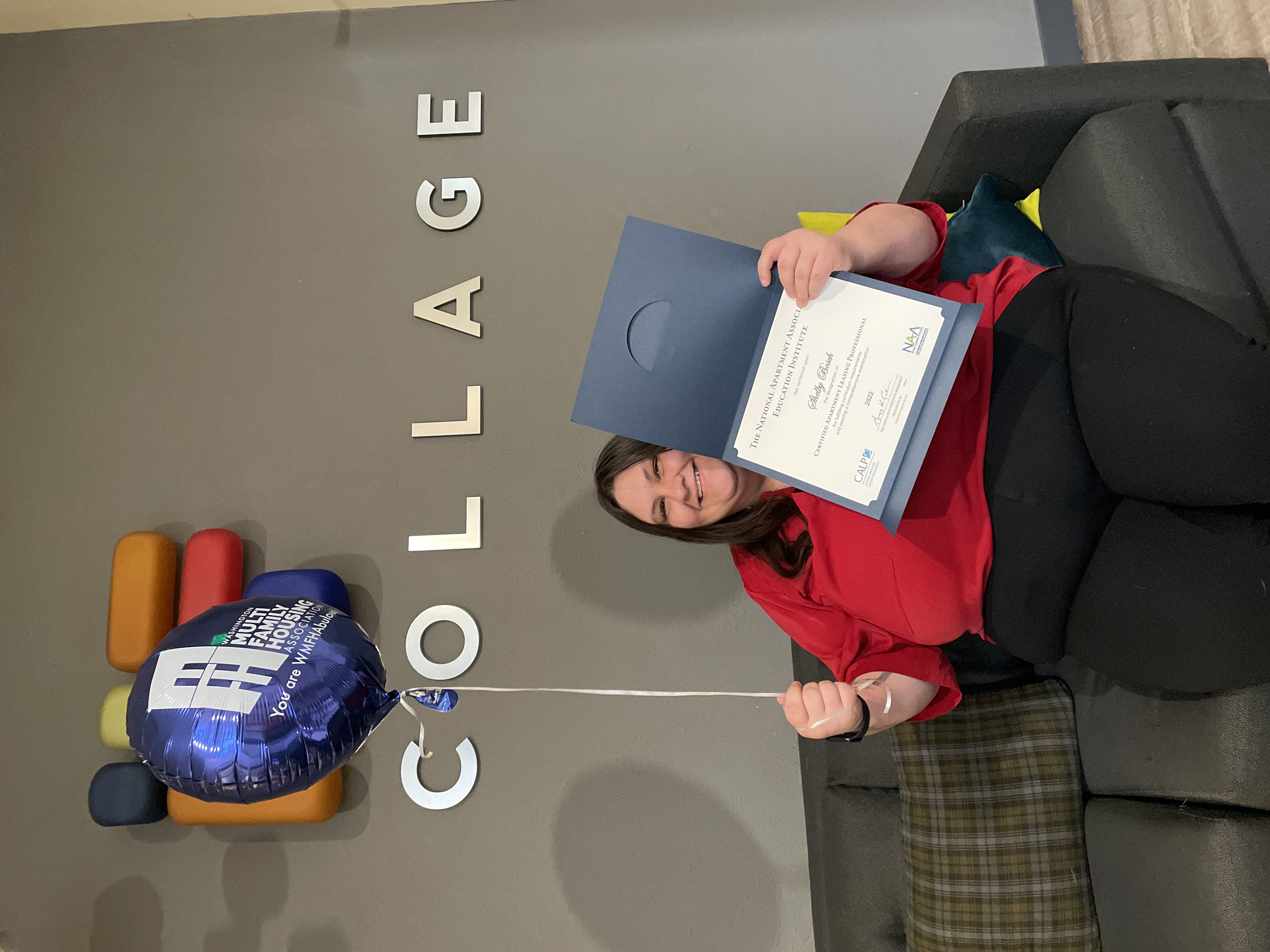 WMFHA: How have you been able to find time to prioritize your professional growth?
Shelby: From my perspective, daily operations cannot be completed with vigor and accuracy without first creating a foundation of knowledge. On-site operations absorb 90% of my schedule, which doesn't leave a high quantity of time for extracurriculars. However, with the other 10%, I make it a priority to give quality time to invest in myself. Investing in knowledge, learning, and growth has made me a better team member for my residents, my team, my property and my client.
WMFHA: Do you find the material covered in the credential courses relevant to your daily operations?
Shelby: Absolutely! The course content was highly applicable to my daily responsibilities on-site, with the CAM financial module being especially valuable!
WMFHA: What were the top three takeaways you learned through achieving your designations?
Shelby:
Although my role may seem small in the grand scheme of the industry, it has a significant impact on multiple aspects of it. I like to think of myself as the small rudder that guides a large ship toward success.
The satisfaction I derive from my career largely depends on my interactions with residents, my team, and my willingness to explore opportunities for learning beyond my daily routine.
The intricacies of housing financials can be really overwhelming, but it is still more comprehensible than high school trigonometry 😊.
WMFHA: What do you love most about your career?
Shelby: I find it incredibly fulfilling to be involved in the process of providing people with a place to call home. Home is a sanctuary where individuals can escape from the pressures of the outside world, and although every home has its own set of maintenance challenges, it brings me joy to contribute to the creation welcoming space for people. My residents are a constant source of inspiration and motivation, making the often-chaotic nature of my job completely worthwhile. Although it took some time to get a team, the one I have now is truly exceptional. We have excellent communication, support one another, and work collaboratively to achieve our goals. My current PM and RPM are particularly supportive, and their contributions have made our team feel like a cohesive unit.
WMFHA: Do you have future plans or aspirations to continue your professional development?
Shelby: Although I have a strong desire to expand within my current portfolio, company, and career, my primary objective currently is to embrace my inner toddler and be a sponge to absorb as much knowledge as possible. I intend to enroll in additional courses offered by NAA and participate in more events and networking opportunities provided by WMFHA. My ultimate goal is not to become an expert but to remain a perpetual student!
Shelby is a shining example of the benefits of getting involved in WMFHA. She has taken full advantage of her opportunities and will continue to grow.
To find more about our designation programs so you can be a GO-GETTER like Shelby:
Click Here