Love Your Neighbor
Date posted
September 7, 2022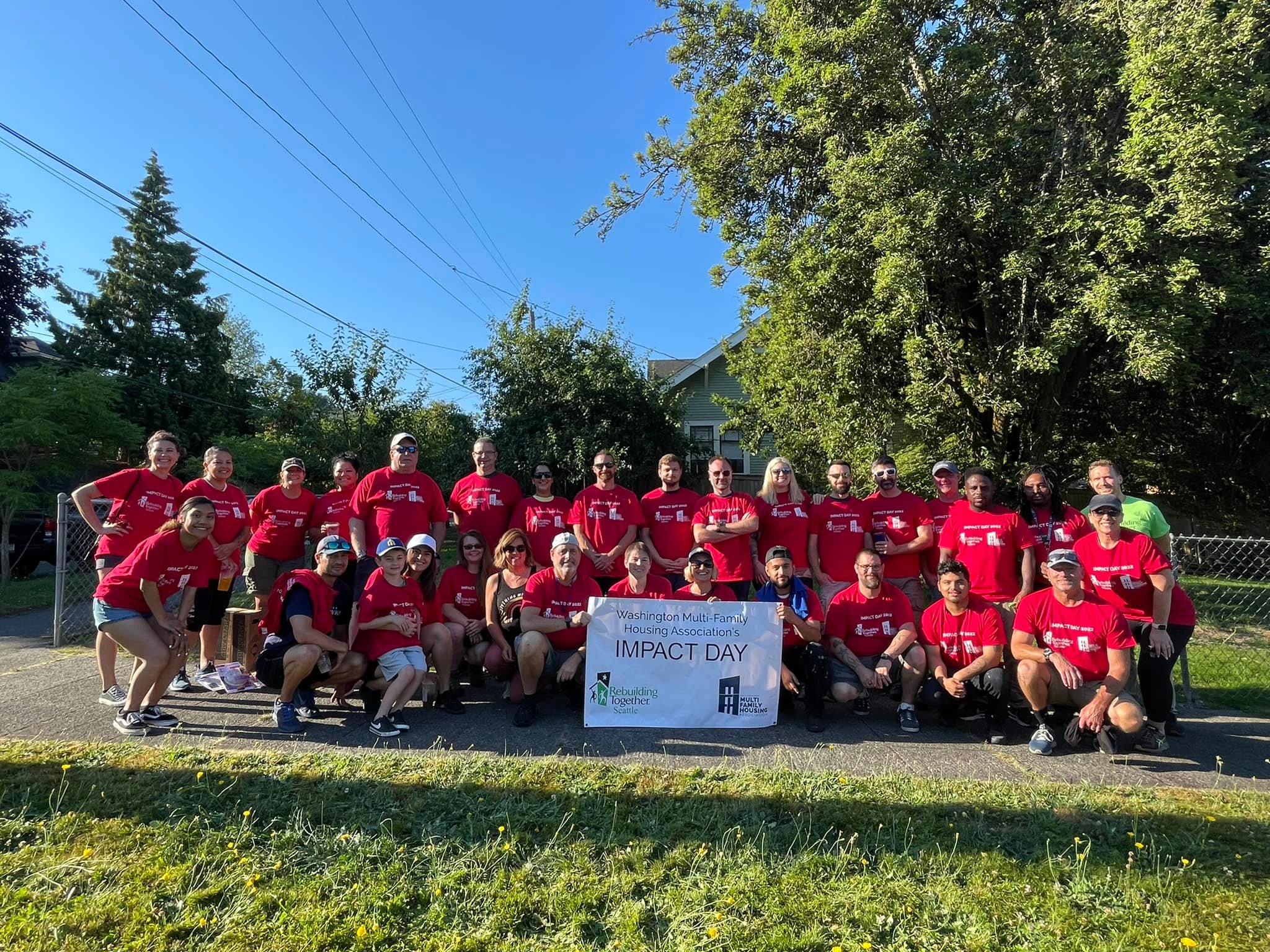 In a post-pandemic world where everyone is trying to recover and regroup it is easy to keep your eyes down and keep plugging away.  Everyone in every industry is short-staffed and trying desperately to keep our business going and our overworked teams happy.  It is NOT a time where it is easy to say "yes" to more work, extra responsibility, additional expense. However, it is a time when our neighbor may need us more than ever.  On a hot July day – members of Washington Multi-Family Housing association did just that.  We said YES!  Yes, we will give a little more, donate a LOT more and say "we see you" to the neighbors in our community. In partnership with Rebuilding Together Seattle, WMFHA members, friends and families came together to make needed repairs and updates on two Seattle homeowner's homes.   
The scope of the work included over $30,000.00 in repairs, equipment, and labor. The team of over 30 volunteers replaced flooring, painted walls, rebuilt unsafe decks and railings, replaced appliances, repaired plumbing and electrical, overhauled landscaping, pressure washed and repaired roofs, replaced windows and more.  All of this was done so that two deserving veterans could experience the safe enjoyment of their homes. 

| | | |
| --- | --- | --- |
| | | |

The project was organized and led by WMFHA Director of Events Tricia Johnson and volunteer project managers James Ohrn of Avenue5 Residential and Terry Spivey of Thrive Communities who facilitated the skilled and unskilled labor of 30 volunteers.  Over 20 different companies donated goods, services, money and labor to make these necessary repairs and updates happen.
The two very deserving homeowners were James Boyd and Robert Stephens Jr.  Mr. Boyd is a veteran who attended the United State Air Force Academy and served in the military during the Vietnam War. He also comes from a military background with his father having been a veteran as well. Robert Stephens Jr. is also a veteran and enjoys looking after and cooking for his grandchildren at his home. Robert's home has been in his family since the 50's, so he is especially grateful to have the necessary repairs so he can remain living there.  

The Washington Multi-Family Housing Association has partnered with Rebuilding Together Seattle since 2015 and has completed 9 home projects.  Rebuilding Together Seattle serves low-income homeowners who are elderly, living with a disability, families with children, or veterans in need. They also serve nonprofit organizations in need of facility repairs.   
---
WMFHA thanks the many volunteers who gave their time and talents and especially the following companies who donated the goods and services necessary to complete the projects: 
1UP Floors | AFB Floors | Apartment Advantage Staffing | Clean Exteriors | Commercial Fire Protection | HD Supply
Lowe's Pro Supply | Malone's Landscaping 
The Plumbing and Drain Company | Sherwin Williams | TAM Residential 
2022 Volunteer Team
James Ohrn – Avenue5 – project manager

Terry Spivey – Thrive – project manager

Sloane Cerbana

Tricia Johnson

Molly Watts

Ryan Makinster

Natasha Amira – Kennedy Wilson

Jeff Amira

Asher Amira

Christina Chisholm – TAM Residential

Miranda Dymond – Thrive

Christina Koski – Thrive

Saniya Regmi – GRE

Alex Watts – Greystar

Benjamin Watts – Avenue5

Dave Wendt – Greystar

Mark Hindenach – Greystar

David Sandman – Greystar

Dave Johnson

Eric Sandford – Apartment Advantage

Jacob Foe – Plumbing and Drain Company

Jay Wavy – Apartment Advantage

Kelby Stern – AFB

Lisa Jones - Avenue5

Malissa Vivette

Marion Durand – Thrive

Ron Voigt – AFB

Salome Molia – GRE

Spencer Kagen – Avenue5

Tyrone Hurd – Apartment Advantage
A special shout out to Jamie Squires from HD Supply who walked properties with project managers
to spec all the material needs
October 22, 2022 is National Make a Difference Day. 
We encourage you to find something – big or small that you can do to love your neighbor!